We are excited to announce that The Love is a Lion Tour featuring Citizen way, Jason Gray, and The Young Escape will be coming to Madison County High School on October 20, 2019 at 6pm. Tickets can purchased shortly on iTickets.com and are $10 general admission and $25 VIP/Meet & Greet which feature a meet and greet with artists and reserved seating. You will be able to order tickets directly from iTickets.com or by clicking on a link on our website at reunitewithchrist.com. 
Click HEREfor Facebook details.
941 The Oasis has your chance to win tickets to the show!  Good Luck!
---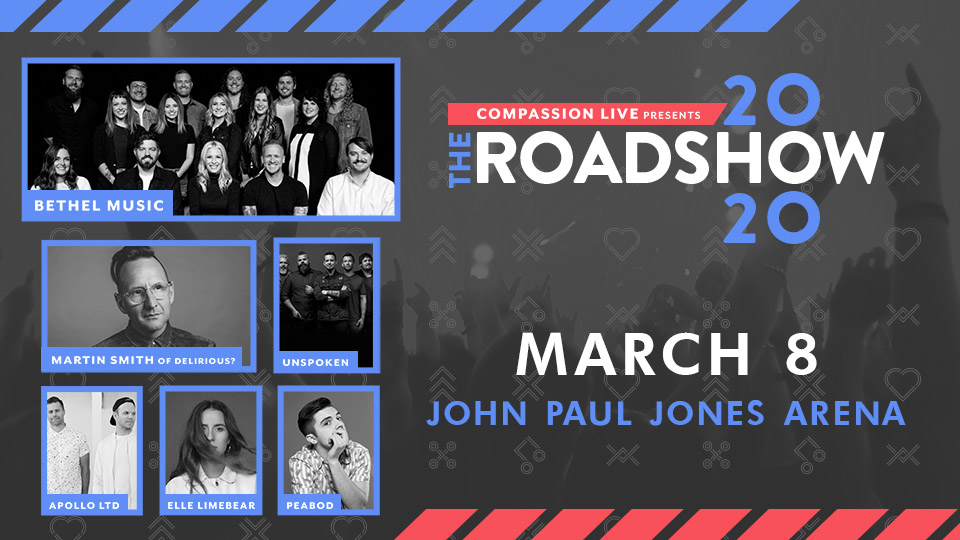 The Roadshow
Compassion LIVE's "The Roadshow Tour" has unveiled its exciting and diverse 2020 talent line up with 16 coast to coast tour stops. Welcoming hundreds of thousands of fans to arenas for over a decade now, "The Roadshow Tour" will feature Award-winners Bethel Music, Martin Smith of Delirious?, and Unspoken, as well as ApolloLTD, Peabod and Elle Limebear throughout the month of March. "The Roadshow Tour" stops at John Paul Jones Arena in Charlottesville, VA on March 8th.Tickets go on sale Friday, September 20th at 11am and are available at the arena box office or through ticketmaster.com.
"We are so excited that Bethel Music is heading up Roadshow tour next year with some amazing friends & Compassion International," said Bethel Music's Brian and Jenn Johnson in a special announcement video. "We are believing God for life changing experiences in His presence. See you out there!"
"We have loved being ambassadors for Compassion International for many years," remarked Unpsoken's Chad Mattson. "Nothing excites us more than to be a part of Roadshow 2020, and to share the stage with so many talented artists. We know that God is going to use these nights in order to build His kingdom; not only here in the USA, but all around the world."
In just over 10 years, "The Roadshow Tour" has entertained nearly 1.5 million fans and has seen over 40,000 children sponsored via Compassion International. The tour has sold out multiple times in markets such as Houston (Cynthia Mitchell Woods Pavillion) and Colorado Springs, CO (Broadmoor World Arena) as well as packed venues in Spokane, WA (Veterans Memorial Arena), Fresno, CA (Save Mart Center) and Ontario, CA (Citizens Bank Arena).

---
Everyone has a favorite teacher, who's yours? Show your appreciation by letting us know what makes your favorite teacher so special, and they could win something awesome from 94.1 The Oasis! Nominate your favorite teacher, and they could win a $100 gift card to Kroger, Dinner for 2 to The Melting Pot, and a gift basket from Bubbles Salons including a $25 gift card plus products (a $70 value)! Plus, each teacher's classroom will get a party from Duck Donuts.
Sponsored By:
---
THE FOLLOWING GENERAL RULES APPLY TO ALL MONTICELLO MEDIA LLC BROADCASTING CONTESTS: